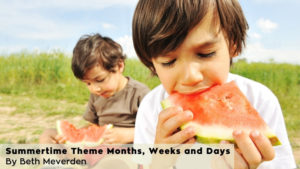 If I am not intentional with my children's summer (fall and spring) breaks, the time flies and screen time wins. Here are some ideas I have used with my children to use our time together well during the summer months:
1. Pick a theme for each month of your summer. You can find some of my ideas here. Though my ideas were written for younger children, you can make these ideas age appropriate, as well. Our family favorites are Animal August and Fruit of the Spirit Weeks.
2. Pick a theme for each week your summer. You can find some of my ideas here. These are mostly for toddler, preschool and elementary aged children but you can tweak them a bit to "Middle or High School" them. A few of our favorites are free on my personal blog. You can get an entire FREE Alphabet Theme Weeks e-book by subscribing to my website. It's an awesome resource for teaching each of the letters of the alphabet in light of Scripture!
3. One summer I was ambitious and had a different theme for each day. Here's a sample schedule with kickstart ideas:
a. Sunday – Family Rest Day – doing recreational things as a family can count as rest, btw
b. Monday – Mama's Choice Day – could be a specific family chore accomplishing day, could be going for ice cream, could be called "Margin Monday"
c. Tuesday – Twos Day – Each child gets to pick a friend to connect with in -person for a playdate/hang out, online during a video game, or via facetime or over the phone.
d. Wednesday – Water Day – play in any kind of water (creek, swimming pool, bathtub)
e. Thursday – Project Day – Get a house project done (clean the garage, weed the garden, paint the bathroom, etc) OR do craft and activity projects (make cards for holidays throughout the year or build a Lego City)
f. Friday – Adventure Day – Go somewhere you've never been in your town or somewhere nearby (free town museums, art galleries, spray grounds, university libraries, the fire station)
g. Saturday – Fun Food Day – Plan something special and summer-y to eat. Involve everyone in planning their favorite summer meals and then have one child at a time help you make and serve that meal. It's a special memory my children love. We sometimes do this on a weeknight because we have all day to prepare, as well.
Some of these ideas take more planning than others but having an intentional summer will build memories, so it's worth the time! You can do these ideas whether you work full-time, work-from-home or are a stay-at-home parent or grandparent. It's all adaptable… like the pandemic has taught us to be! Savor this time together… rejoice in the gift of it.
Rejoice in the Lord always. I will say it again, REJOICE! Philippians 4:4
What intentional plans do you have for your family this summer?